Technical SEO is a method of optimizing websites to achieve higher rankings on search engines. Technical SEO encompasses many different techniques, but the content and website performance are the most important ones. Technical SEO can be difficult to master, but it's worth the effort because you could lose out on vast amounts of traffic without it!
Technical SEO is the critical aspect of SEO. You can drill down the niche and create unique content to attract more traffic; however, your site's unsolved technical SEO glitches can demolish all your efforts to rank high in search engines.
You need to schedule specific timing on optimizing the site with a Technical SEO checklist.
In this particular article, you will come to know the key elements and Technical SEO checklist and few technical SEO tips to enhance your efforts on more traffic generation.
Table of Index
Technical SEO Checklist

Increase your Pagespeed
Fix Site Errors with Frequent Technical SEO audit
Leverage on Internal Links Building
Primary keywords in Alt Text
Avoid duplicate content issues by using Canonical URL's
Use SSL Certificate on your website
Fix Crawl Errors in Google Search Console
Fix Broken Links
What is Technical Search Engine Optimization / Technical SEO?
Technical SEO is the process of indexing, crawling, and optimizing your website as per Google guidelines to increase your Search Engine Result Pages.
It resolves the technical improvements of Technical SEO to achieve a higher ranking in the Search Engine Result Pages. It covers various of range of technical SEO areas such as:
Crawling
Indexing
XML Sitemaps
Mobile Friendliness
Site Architecture
SSL Certificates
Image SEO
Internal Links
External Links
Canonical URLs
Please find the Technical SEO checklist in detail:
Mobile Friendliness
Let's start with the essential Search Engine Optimization criteria.
In 2015, Google released an update that prioritizes mobile-friendliness and response sites are given privilege. However, mobile-friendliness in the present has shooked the market abruptly.
Some of the tools used to check the friendliness and analyze the technical SEO enhancement of your website are:
Generate XML Sitemap
Sitemaps play a crucial role in indexing your web pages. It's pretty easy to create an XML sitemap.
Once you are created, submit the sitemap via Google Search Console.
Login to your GSC account and navigate to Sitemaps-> Add a new sitemap and then "Submit."
Increase your Pagespeed
Website speed plays a crucial role in search engine ranking. If the site is slow and takes a considerable loading time, it would affect its ranking.
However, if you have high-quality, optimized content with low page speed, your website will have low search engines rank.
Free tools for analyzing your test speed are:
Please find the usual issues which affect the loading speed.
Optimize your site images - Use compressed pictures on the website.
Enable browser caching - It will help store visitors' data in cache memory so that users don't require actual loading time.
Enable compression - It will reduce HTML and CSS files by 50% and increases the site speed.
Reduce server response time - Google suggests server response time under 200ms.
Use a Content Delivery System - Use CDN to increase the site speed.
Still, if you find your page speed low, please Get in touch with Us.
Fix Site Errors with Frequent Technical SEO audit
It's mandated to run the site audit every week to find any technical SEO difficulties which might affect website ranking.
Source: https://www.semrush.com/blog/technical-seo-audit/
So, how to run a technical SEO audit? Several tools in the market, such as Semrush, Ahref, etc., are some of the best tools that marketers across the globe highly recommended.
Leverage on Internal Links Building
Internal links are just a hyperlink that redirects or points to another page on the same site.
Internal links are necessary for any website to drive traffic. Moreover, it will help in the proper indexing of your site pages by search engines.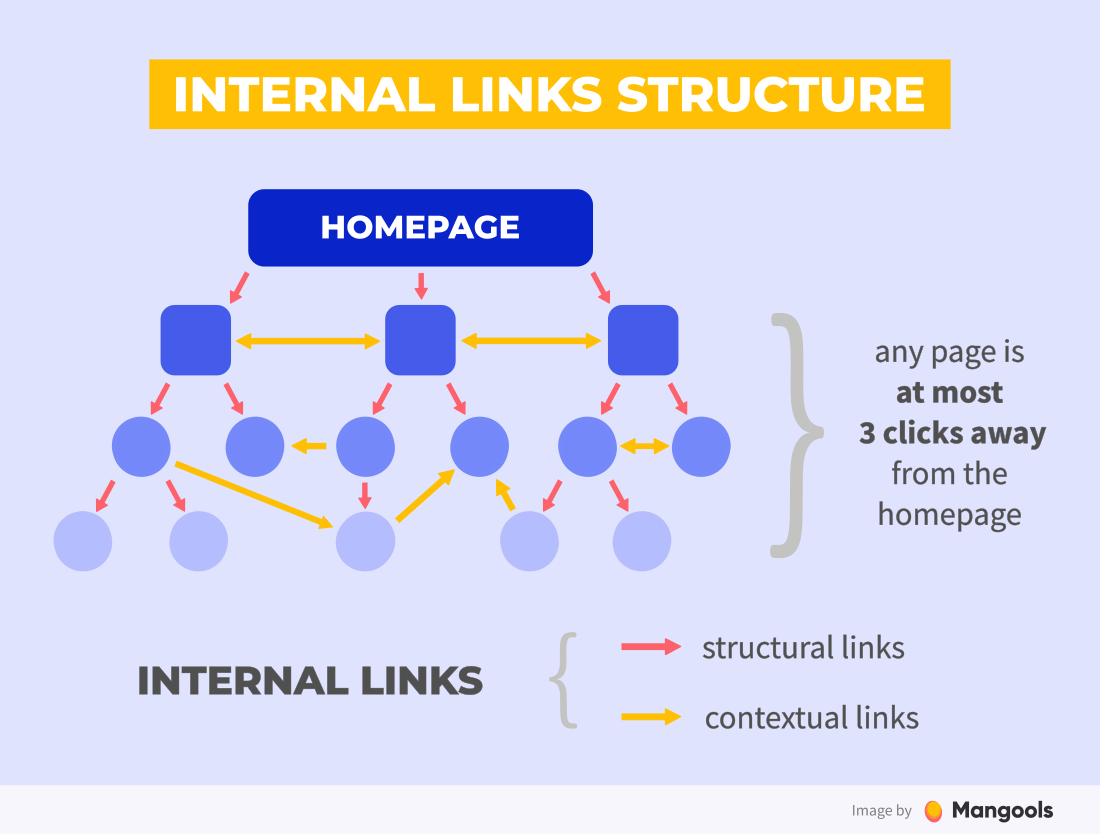 Source: https://mangools.com/blog/seopedia/internal-links/
A site with only external links is good for SEO ranking; they are not bad, but internal links give additional benefits like validation, popularity, and website quality.
The most important aspect of internal linking is the anchor text selection. A better choice makes it easier for Google bot to crawl your website easily without facing any problem later on-page optimization process.
Usually, most websites use keywords as their anchor text, which might seem inappropriate depending on context and product/service category. However, more than anything else, internal links play a crucial role in enhancing user experience while browsing; linking can be done by using the alternative text, title texts, or any other language that brings sense for both bots and human visitors.
Internal links are nowhere related to SERPs ranking; however, internal links play a significant role in easing search engines to understand your site's content and provide technical SEO-friendly architecture.
Primary keywords in Alt Text
Google is unable to see what's in an image. So instead, it uses metadata such as the file name and alternative text (alt) to determine its inside.
Unsure about how best practice for alt text, we seek a clear answer from Google Technical SEO specialists: "The basic rule would be that your ALT tags are supposed to describe the function or appearance of an image." That said, adding too many keywords will result in stuffing them into this important field on every page - which should never happen! In addition, optimizing images can lead to improved performance when you're looking at search engines like Google.
Avoid duplicate content issues by using Canonical URL's
A canonical URL is used to prevent search engines from creating multiple pages as duplicates. Canonical URLs tell search engines which version should be indexed and show up for all its variations. In this way, you can assure that your website shows up for the correct keywords in organic search results.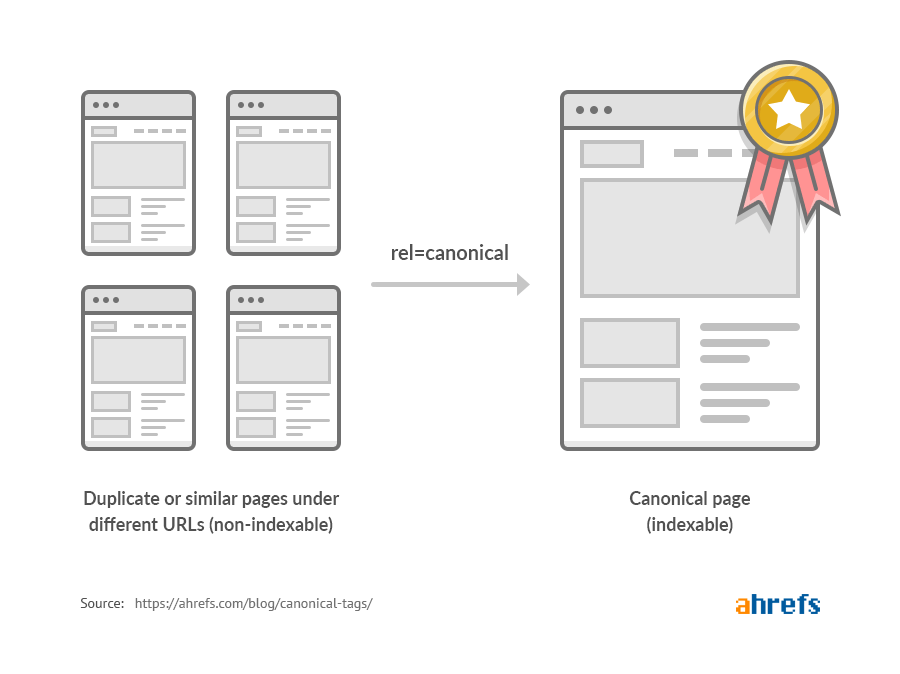 Source: https://ahrefs.com/blog/canonical-tags/
Your priority should always be to delete the duplicate content on your site. Then, once again, use a technical SEO tool like Semrush to scan and fix duplicate content issues on your site. However, there are some cases where having duplicates can't be avoided- such as when you're replicating a blog post from one website or page layout to another, which is especially useful if you have hundreds of identical web pages for eCommerce sites that offer similar products with slightly different prices/descriptions, etc. That said, it's essential to identify these problem areas and set up canonical URLs so Google knows what copy belongs in each spot!
Use SSL Certificate on your website
Google announced back in 2014 that SSL certificates encryptions are now a ranking signal. The latest Google algorithm update has caused significant changes to how websites rank on the SERPs, and securing your site with an SSL certificate could make all of the difference for you.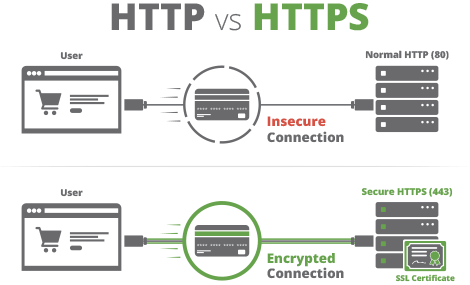 Source: https://sucuri.net/guides/how-to-install-ssl-certificate/
If you've been contemplating upgrading or implementing one for some time but have hesitated because it seemed like too much work, this may be just what is needed! I recommend cheap yet effective Namecheap-issued SSL certificates if you're looking at doing so soon before prices increase again, as they usually do every year around December (or sooner).
Fix Crawl Errors in Google Search Console
If you just finished building a new website for your business, it's crucial to check the crawl errors within the first few months of launch to identify critical issues that might affect its indexing. Even minor crawl errors can cause significant delays when crawling and indexing your page content - which can result in fewer visitors seeing your pages on SERPs!
So what exactly are crawl errors? They occur when Googlebot fails to access or download all or part of a web page due to incorrect permissions, limits in crawling rate/behavior settings, server downtime can find crawl errors in Google Search Console. You should use it regularly to ensure no technical issues impacting your website's indexing within Google's search results.
Source: https://moz.com/blog/how-to-fix-crawl-errors-in-google-search-console
Fix the root cause of technical SEO issues rather than focusing on short-term fixes.
You cannot optimize what you cannot see! Take a holistic approach to technical SEO implementation - you'll need the right tools for technical SEO audits and migrations. And, don't forget to work closely with your development team throughout your implementation process so they can help identify any roadblocks along the way! Make sure you have comprehensive backups available at all times in case things go wrong. No one who wants to be rebuilding an entire website because of a simple oversight or installation mistake should have a checklist that includes items such as whether or not you have all the necessary SSL certificates, duplicate content issues. Make sure to keep updating your technical SEO audit checklist regularly to ensure that there are no gaps in your technical implementation plan.
While monitoring crawl errors are essential, it's also necessary to prioritize fixing any technical problems found by Googlebot, so they don't cause additional issues down the road.
Before you start fixing crawl errors, remember to use a checklist of standard technical SEO best practices - so you can be confident you won't miss anything! If you follow this guide, I'm sure that your website will see significant changes in search engine rankings and traffic within few weeks from read more about the topic. 
Every week, you should check for crawl errors in Google Search Console to ensure your website runs smoothly and sees the best return. Additionally, you might want to have a glance at what pages are blocked by robots.txt--sometimes we block pages accidentally when they can't be accessed through other means of navigation!
Checking out crawl errors weekly will help prevent technical issues from hindering performance or rankings.
Citations
Firstly, make sure you are Google's preferred domain.
Google prefers one version of a website, and linking pages together is what makes it chose. You can set up your desired domain by adding a rel= "canonical" tag pointing the www URL to the non-www version of your site. This tells search engines that both versions are equivalent - even if the two sites have different locations, they should still be treated as one entity.
Fix Broken Links
Broken links affect the site's efforts with Technical SEO, but they can also harm the website user experience. For example, a "404 Not Found" page is a sure-fire way to get users off your site, and you never want that!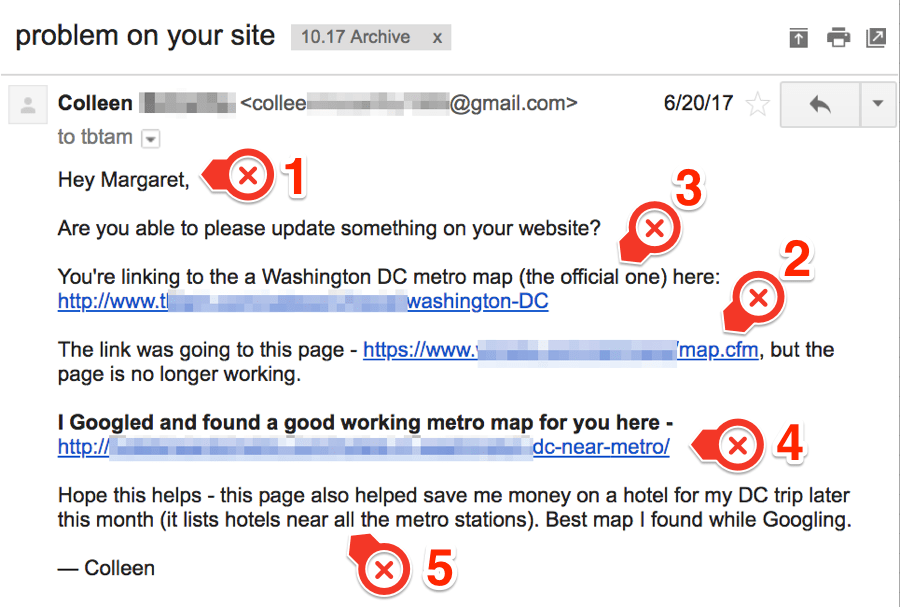 Source: https://ahrefs.com/blog/broken-link-building/
It's always best practice to check for broken links on your site regularly - especially if you know there have been changes made recently in an attempt to avoid this problem altogether.
Crawl errors can impact site performance in several ways, from slowing crawling speeds to making pages unavailable on your site. Therefore, it's crucial to monitor crawl errors regularly--and fix them as soon as possible!
Conclusion  
If you have a website, it's essential to ensure that your site is optimized for search engine spiders and crawlers. Make no mistake - while technical SEO techniques like content creation are critical components of a successful technical SEO strategy, they're useless if the technical aspects of your site aren't up-to-date. In this article, we've covered some key elements and an example Technical SEO checklist that will help you get started on improving your web page search rankings in SERPs. We also included a few recent technical SEO tips, which can be helpful when trying to generate more website traffic with less effort! Feel free to reach us for any related queries or questions about how our team at Assemble Digital can assist in creating and executing top-notch marketing strategies for your business requirements.
Related insights
Is Facebook Dead?
Everyone knows Facebook as a fun website where you can catch up with friends and share photos and posts to the world. It started as the original place to make friends. Nowadays, some people say that it has become almost a clickbait with its multitude of paid articles and advertisements.
get more insight
The Rise of Social Media "Stories"
It all started back in 2013 with the rise of Snapchat, which is now one of the most popular social media platforms in the world. Snapchat created a unique "story" feature that everyone could see, but only for a short period of time: the post would disappear after 24 hours. It became a huge success and users started to interact with Snapchat even more than before.
get more insight
The Importance of Mobile and Responsive Web Design
Did you know that in 2019, approximately 52% of users worldwide use a mobile device for internet browsing? This is in comparison with desktop browsing at 45% and tablet browsing at 4%. Although just over half of the population leaning towards mobile devices may not seem very drastic, this figure compares with one of 2015, when desktop browsing was the principal method, holding around 60% of user preference.
get more insight