If you like to know what is SEO and how it works for your business to grow?
Below, we have given the details briefly, which can help you to figure out the following information:
What is SEO?
How does it work?
Factors that influence SEO Optimization
White Hat SEO Vs. Black Hat SEO
With that information, you could know the overview of SEO and the work involved in it.
Our clients' most important question to us is - What is SEO, and How it works? Assemble Digital helps in improvising your search marketing and rank them higher on search engine result pages.
Definition of SEO and How Search Marketing Works?
What is SEO, and how it works?
Here, you find what SEO is and its overview.
SEO Definition
The acronym for SEO is Search Engine Optimization.
It is optimizing the website to get free, organic traffic without any ads from SERP pages.
In other words, SEO is nothing but optimizing your website pages based on the user search intent and UI design with relevant content.
Practice the below steps and rank your website to the search engine result pages.
SEO Marketing Strategy
The search engine needs to give the best and relevant search results. This means producing results on search engine pages from relevant searches that the user intends for.
To initiate this, the search engine will crawl and scan various websites to understand better what kind of site it is about.
This helps them to fetch relevant results based on the search intent or keywords.
Source: https://moz.com/beginners-guide-to-seo 
In the same way, search engines would scan the website to understand how easy to navigate, read and produce user-friendly websites with higher search engine ranking pages.
For instance, let's take that you plan to write an article on "how to run a software business." To rank for the particular phrase "how to run a software business," you would need to optimize the blog post based on the keyword to show top results for that specific keyword.
There are many more benefits of using SEO for your business.
By improvising search engine optimization, you can increase your visibility on search engines. This can fetch you more reach and engagement with potential clients.
By building engaging and powerful SEO-optimized content, you shall increase your probability of bringing targeted traffic towards your website.
Factors That Influence SEO optimization
On-Page SEO Optimization
Off-Page SEO Optimization
Content Marketing
On-Page SEO Optimization
The elements involved in your website design section are meant to be On-Page SEO factors.
In On-page SEO, you have complete control over the factors that influence SEO ranking.
Targeted keywords are embedded with ON-page SEO elements relevant to the search intent. Please find the ON-page SEO elements that can fetch you to rank higher on Google SERP's:
Title Tag
Meta Description
Sub-Headings (H1, H2, H3)
Internal Links
Alt Tags With Image Name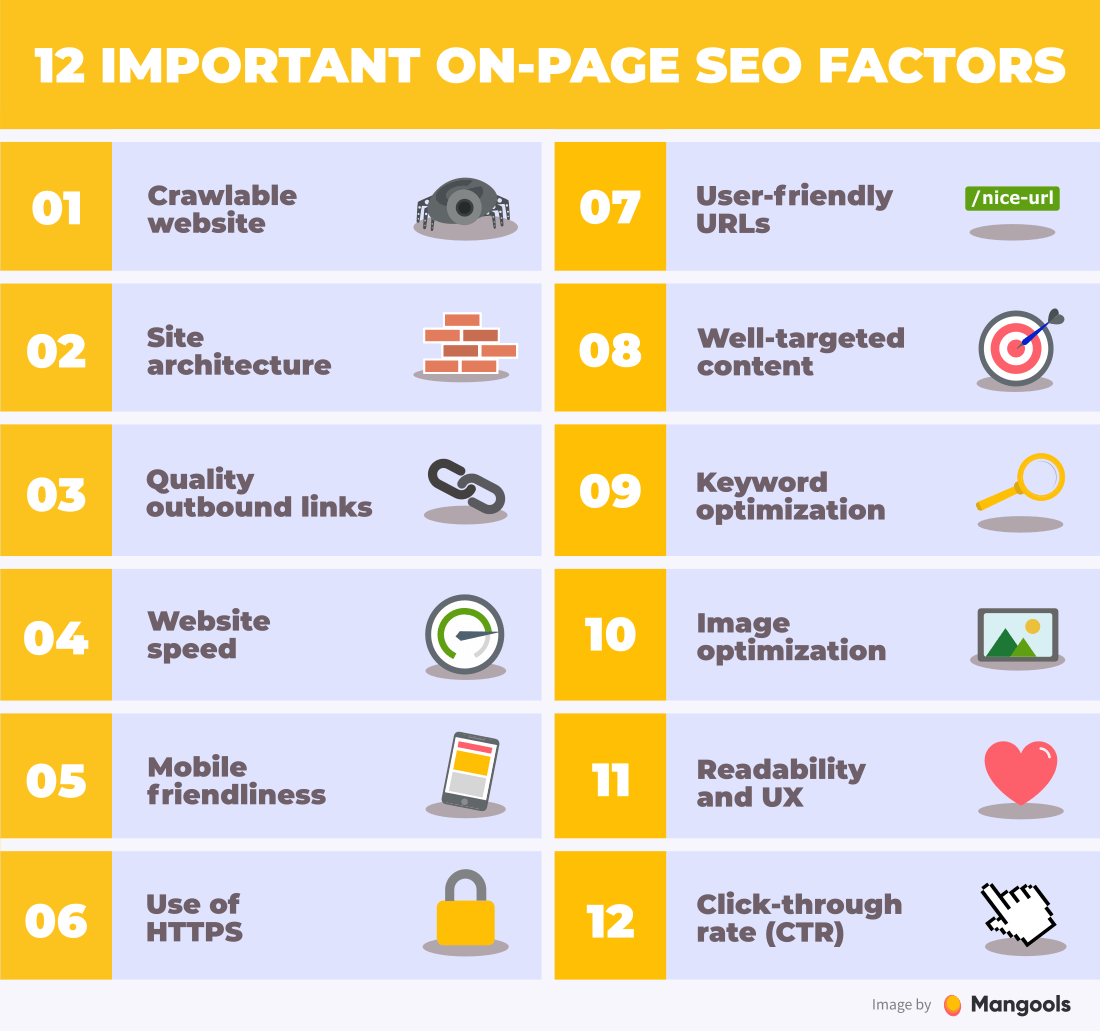 Source: https://mangools.com/blog/on-page-seo/
Title Tag
The title tag on every page tells both the search engines and users what topic your page is about. There are specific restrictions involved in all such On-Page factors. For example, there could be 70 characters or less, including your businesses' content and relevant keywords.
Meta Description
Meta descriptions can be written briefly for user understanding in SERP pages. Also, it helps the search engines to get a little more data on what your page is about.
160 characters or less can be utilized for writing meta descriptions. This can include your search intent briefly with the respective targeted keywords.
Sub-Headings (H1, H2, H3)
It helps users understand the content quickly and fetch you good SEO rankings in search engines.
You could use H1 to H6 tags, but most of them prioritize to rank the subheadings within H1, H2, and H3 tags themselves.
Internal Links
Building interlinks is nothing but hyperlinks to content that is on your site. This can hugely improvise search engine rankings.
For instance, if you plan to write a blog on a specific topic or product, you can hyperlink it to your blog.
Alt Tags With Image Name
If you use any images on your website or blog post, you shall include a targeted keyword phrase in the alt tag and image name. This helps to boost SEO ranking for those particular keywords. Also, search engines would do better indexing on images, which performs well in Image SEO searches.
Be cautious!
Be cautious in optimizing your SEO keywords. It's essential to step ahead and avoid over-optimization issues. For example, suppose you are stuffed with keywords in the content. In that case, it might negatively impact google search engine ranking, even penalizing the website.
Suppose you want your site to get indexed quicker, do proper internal link building within your inner pages, Create a sitemap and submit it with the help of Google Search Console.
More importantly, keep your site user-friendly for mobile devices. This would help in user navigation but also helps a lot in ranking your targeted keywords for mobile devices, enhancing SEO ranking.
Off-Page SEO Optimization
Off-Page SEO optimization is equally essential to ON-page SEO. But, somehow, you couldn't have direct control over it; multiple factors influence the off-page SEO for a particular website.
Some of the key Off-Page SEO factors that can influence SERP's:
Trust
Trust has become the most critical factor in Google's ranking.
With the help of the trust built, Google will determine whether the site is legitimate for the content and visitors confidence in your website.
The best and most significant way to build trust is by building high-quality backlinks from another website with high domain and page authority.
Source: https://www.rankwatch.com/learning/content/31-what-is-off-page-optimisation
Backlinks
One of the best favorite ways to build Off-page SEO is to increase fetching backlinks.
It would be best if you were very careful in selecting links. Spamming sites interlinked to your site is an easy way to get your site penalized and banned by Google from search engines. 
However, please take time to build quality relationships with influences and audiences to create a high-quality content link back to your website.
Social
Another crucial aspect of the Off-Page SEO factor is getting social signals from social media pages such as likes, shares, comments, etc., depending upon social media platforms.
The amount of content sharing depends upon the quality of the content you publish. However, you might not have enough control over this.
Content Marketing
Content is the real king for SEO. The quality of traffic you receive depends on the quality of content you have on your site. Better optimized content is indexed well with higher SERPs and brings surplus traffic and enormous businesses.
However, engagement can be done by effective content. This could results in an increase in your site visitors if they spent ample time on your page.
Some of the types of content that shall be focused on improving content with SERP's are:
Blog Post
Whitepapers And Ebooks
Social Content
Video recordings 
Infographics
Source: https://blog.hubspot.com/blog/tabid/6307/bid/6145/why-ebooks-are-better-than-whitepapers.aspx
Blog Post
A website or blog can be created on different social media platforms like Facebook, Linked In, Twitter, and Google Plus. This will help increase your site traffic if the content is high-quality and informative enough to engage your visitors.
Video content is the best and effective form of delivering information. It can be very engaging to visitors if your video captures their attention.
Source: https://blog.hubspot.com/marketing/state-of-video-marketing-new-data
You might be recorded in different formats, for example:
Animation videos
Live Videos
Podcasts
Video Recordings
Create video tutorials for particular tasks. It's a great idea to create tutorial videos of the steps taken to complete specific tasks or projects. This will increase user engagement on your site, as it becomes easier for them too.
Social Content
Social media posts are indexed by search engines very quickly. Therefore, to gain brand awareness, social signals are a great way to increase Search Engine Optimization.

Source: https://www.business2community.com/video-marketing/social-media-video-trends-marketers-should-know-insights-from-a-2021-report-02408539
Whitepapers And Ebooks
Whitepapers and ebooks are constantly shared on social media sites. You can create your content or use someone else's ideas to take references while writing the best article. Remember, your article should be unique, not copied from anywhere. Use graphics are quick and engaging content that people get attracted to. Infographics may be created using pictures combined with the selected words.
Infographics
Infographics are outstanding in all types of content. They have great-looking graphic designs with insightful information that could engage your site visitors as well as search engines. In some cases, infographics can be shared across various social media sites as visually appealing graphics, which helps increase rankings. However, please do not build infographics from scratch; it's highly recommended to go with some stock image infographics or hire someone who has expertise in infographic marketing. Here is a list of some tools to create an infographic:
Source: https://venngage.com/blog/what-is-an-infographic/
Vector free files
Animated videos
Social Content
These types of content shall bring more conversion rates along with an increase.
Please keep in mind, SEO does not include only on-page Optimization; it's equally important to focus on off-page.
Hence, try focusing on the above points to enhance your customer engagement further and improve your site rankings.
White Hat Vs. Black Hat SEO
If you know SEO, you must have across the terminologies for a few moments. But, if you are very new to search engine optimization, you should stay focused to find the exact difference.
It's crucial for an SEO person to understand, What to do, and what not to do with SEO!
Source: https://www.crazyegg.com/blog/seo/black-hat-vs-white-hat-seo/
Some companies are only interested in quick results in SEO and focus on money-minting tricks. These tricks come under Black Hat SEO.
Black Hat SEO tactics involve focusing on optimizing the content only for search engines. However, they do not consider user behavioral or visitor engagements. Thus, such companies break the thumb rule ethics of White Hat SEO and intend to rank higher in SERPs.
However, these tactics are short terms. In the long run, this would never help, and even possibilities of getting the site banned are high.
The only way to build a longstanding online business that brings substantial organic traffic and companies over time is to adhere to SEO best practices.
SEO Strategy
White Hat SEO is the best and most ethical way to get ranked in SERPs. To optimize a website for search engines, one must follow the Best SEO Best Practices.
In White Hat SEO, you must focus on user experience, visitor engagement with content, keywords optimization & placement.
These Best practices would lead to long-term results and increase your brand's value over time. With this strategy, many companies build their business across different countries and regions that eventually bring them substantial organic traffic from Google through long-term sources.
Best 5 Search Engine Optimization Tips For Small Businesses:
1) Make Sure Your Site Is Mobile-Friendly! If your site isn't, is the Best SEO strategy?
Choosing the best SEO strategy is a tough job. Best SEO Strategy can be done through White Hat SEO Best Practices to get ranked across the globe and sustain in the long run. However, one should not forget being scrupulous with content because placing wrong keywords or relevance to its context (keyword stuffing) can get your site banned from search engines like Google. Therefore, we recommend you know the Best Seo tips for small businesses and the Best SEO Strategy.
2) Make Sure Your Site Is Mobile-Friendly! If your site isn't mobile-friendly, it could lose up to 50% of its traffic and potential customers.
3) Optimize Content: Your content happens when you optimize your content Best SEO Strategy?
Content is one of the Best SEO Strategies. Best SEO Tips for small businesses will help to get ranked within a reasonable time. How do I come to know if my website is optimized? If you read Best Seo tips for small businesses, it would be easier to find out!
If there are rich keywords throughout your site's pages, the Best SEO strategy is done for you.
4) Optimize Content: Your content should typically consist of 1,000-1,500 words and must address using online queries/needs.
5) Create A Blog & Link Back To Main Site: You need to link your new blog posts Best SEO Tips For Small Businesses is Best SEO Strategy In 2018? Best SEO strategy in 2018 is not a one-time activity. Best search engine optimization strategies must be followed throughout the year. Best Seo tips for small businesses will help you out in this case.
Conclusion: What is SEO and How it works
I hope you get a brief overview of how SEO works and the necessary changes for your site.
But do not forget to remember, SEO doesn't follow any particular formulation. There are plenty of factors that might affect the rankings.
The most significant point to consider is how your content seems valuable and relevant to your targeted audience.
Also, please keep in mind, SEO is not overnight magic. It would even take several months to see your hard-worked results. Nevertheless, the results are longstanding when you adhere to the best SEO practices.
It would create a sustainable online business everlastingly.
If you are interested, know more about SEO? 
Are you planning to build an SEO strategy for your business? 
If you are feeling discomfort with your current search engine ranking?
Assemble Digital is a digital marketing agency based out of London, UK. We help you to achieve search engine ranking. We got a talented team from Assemble Digital who provides SEO consultant services in top-notch quality and brings more relevant traffic.
Contact Us for any related queries!
Related insights
How to Use Organic Social Media for your Start-up Business
Social media has become one of the most effective tools for marketing your business. It is evidently very powerful and proven to be useful and inexpensive when used organically. However, it can feel very overwhelming for start-up businesses to use social media at first, especially with no knowledge of how to attract followers and customers.
get more insight
The Importance of Mobile and Responsive Web Design
Did you know that in 2019, approximately 52% of users worldwide use a mobile device for internet browsing? This is in comparison with desktop browsing at 45% and tablet browsing at 4%. Although just over half of the population leaning towards mobile devices may not seem very drastic, this figure compares with one of 2015, when desktop browsing was the principal method, holding around 60% of user preference.
get more insight
The Rise of Social Media "Stories"
It all started back in 2013 with the rise of Snapchat, which is now one of the most popular social media platforms in the world. Snapchat created a unique "story" feature that everyone could see, but only for a short period of time: the post would disappear after 24 hours. It became a huge success and users started to interact with Snapchat even more than before.
get more insight